In the late 80's at school we took two layers of bubble wrap and put it beneath the glass sheet in a solar thermal panel. It improved winter efficiency of the panels quite a bit. However, the bubble wrap melted as soon as the temperature went up, as spring began.
The two layers of bubble wrap were replaced by a checker board pattern of very thin, 1 inch tall plexiglass, overlapped in a ~1/2 inch square pattern. This was later doubled up, glass, honeycomb, glass, honeycomb, heat sink, this increased efficiency. The outer layers of glass and honeycomb were nothing more than dead air space used as insulation.
A company called TIGI recently reinvented the wheel. The panels they created look like this.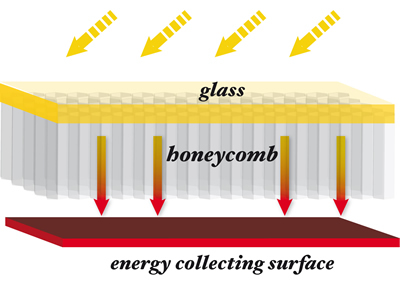 Our first iteration along the same lines looked almost identical to the image above.  The second iteration was as shown in the following image.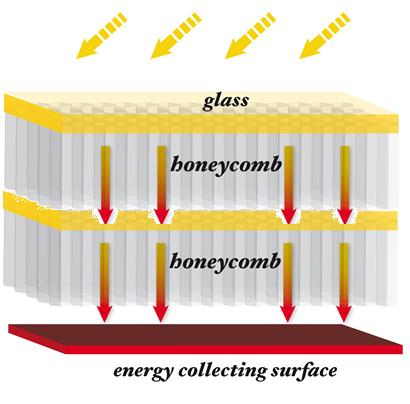 With an extra layer of tempered glass the costs were to high for production. So the following design was created but never produced. The honeycombs were to be split down the middle, the upper and lower portions are separated by a thin layer within the honeycomb. Much like the end cap on a honeycomb in a bee hive, only halfway down the honeycomb. This makes the upper section insulation, equivalent or better than a double pane window,  in the lower section heat is stored and transferred to the heat sink, improving performance.