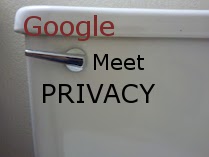 Google is combining many of its 70 privacy policies into one that spans most of their internet properties. This is information they already have, now it is spread out over multiple websites. This will allow Google to track your online habits across most of its websites. Many individuals, privacy groups, the US government, and the EU are worried about this. This personally worries me on many levels. It allow the government a single place to find most, or if you are a heavy Google user like myself, all of your online habits. The more I look at this issue, the more I understand the privacy rights issues the Europeans are expressing.
The solutions given by Google are don't use Google, sign out to not be tracked, and create a new account for each service. The last one is the interesting one, and offers a possible solution for most online tracking.
Browser plugins are applications that adds additional functionality to a web browser. What is needed is a plugin that does several things, securely stores users names and passwords for individual sites, logs you out of a site as you are leaving it, and protects your privacy. All of this functionality has already been created, and is available as individual opensource plugins on sourceforge.net. This needs to be combined into a single application, that clears both standard and flash based cookies, cleans up URL's as you are browsing, logs you into and out of sites automatically, can be configured to prevents JavaScript from loading or running, and allows you to browse anonymously while logged out.
I will work on this in my spare time. When I am done coding this I will tweet it, post here, and contact techdirt, the EFF, and TorrentFreak.